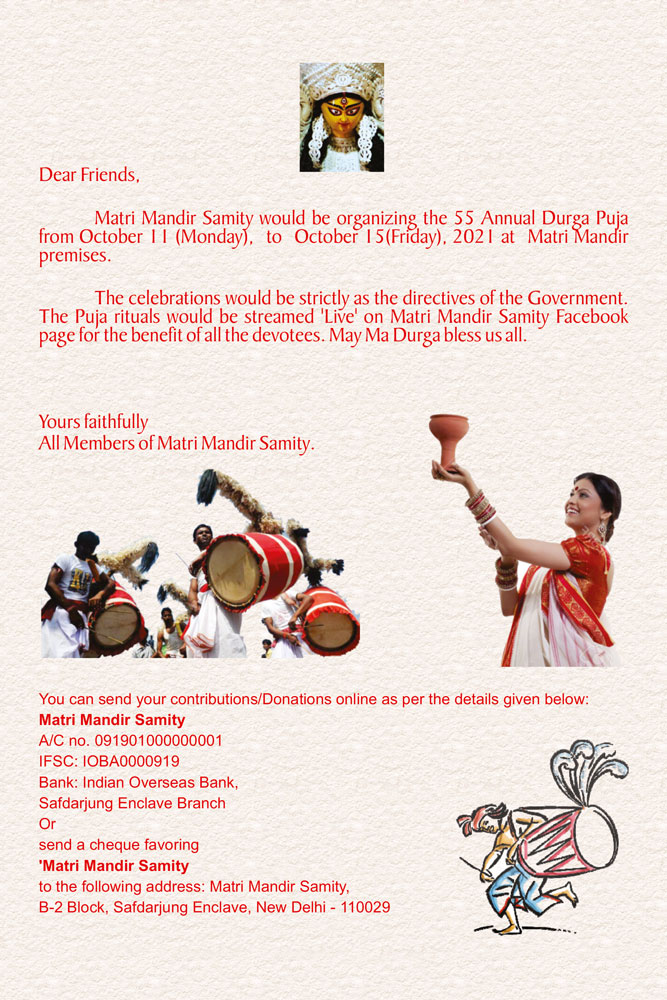 The Durga Puja will be celebrated from 11th October 2021 (Monday) to 15th October 2021 (Friday) as per the above details.The entire puja can be viewed live on social mediaplatform on Facebook andYouTube, the links for the social media platform will be shared on Matri Mandir webpage and WhatsApp groups.
Sandhya Arrati will be performed daily during the above mentioned days from 6pm to 6:30pm for MAA Kali at Matri Mandir temple and 7pm to 8pm for MAA Durga Arrati.
The Government of India Guidelines on Covid-19and the decision taken on general body meeting it was decided thatmembers and devoteeswill NOT be allowed to enter the Temple complex during Puja days. The gates of Temple complex will be closed.
Pushpanjali will be offered online and the Priest will recite mantras for pushpanjali and devotees will recite the same at their home.
Donation for Durga puja can be paid online.
Bank details is provided below:
Account Name: MATRI MANDIR SARBOJANIN DURGA PUJA SAMITI
Bank: INDIAN OVERSEAS BANK
Account No: 091901000011831
IFS Code: IOBA0000191

Devotees can send offerings online by transferring the amount through NEFT/RTGS to MATRI MANDIR SARBOJANIN DURGA PUJA SAMITI account. Sarees etc. can be handed over to the Matri Mandir office or the responsible member of Puja committee at the temple complex up to 15th October 2021.